Corporate Foundations
We help you expand your CSR activities. Drive your positive impact on society and the environment through our all-in-one digital fundraising platform.
Trusted by Leading High Impact Companies
Numerous companies across the globe use our solutions to enhance their corporate social responsibility practices. Read more about some successful cases below:
CSR in Action
VINCI Energies shares its employees energy for children

In a world undergoing constant change, VINCI Energies focuses on connections, performance, energy efficiency and data to fast track the rollout of new technologies and support two major changes: the digital transformation and the energy transition. VINCI Energies employs 77,500 people in 53 countries.

VINCI Energies mobilized its employees around the globe with a peer to peer campaign to finance child heart surgery with Mecenat Chirurgie Cardiaque.

Employees were invited to raise funds for their own campaigns or to be part of great events such as the sailing race "Transat Jacques Vabres". VINCI Energies also matched donations to show the strength of their engagement.

5333

people were mobilised

153

fundraising campaigns

€386,706

collected since 2017

Stop Hunger with Sodexo

Sodexo is one of the world's largest providers of catering services for all types of businesses. In 2016, it had 425,594 employees and was ranked the 18th largest employer worldwide.

Stop Hunger was created more than 20 years ago by Sodexo employees in Boston, USA, to fight hunger and help those who suffer from it.

Today, Stop Hunger is an independent organization with 113,000 volunteers in 48 countries, providing nearly 5.7 million meals and raising $ 4.6 million in 2016.

100% of these donations, made to Stop Hunger, are used to fund actions strictly selected for their positive impact on the poorest populations.

$4.6 million

raised in 2016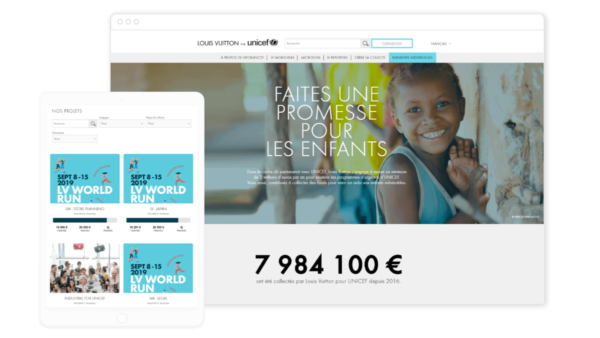 Enhance your brand's identity, deepen ties with employees, & positively impact your community.
Corporate giving is a successful investment strategy that can develop your brand's competitive advantage. Studies show consumers view companies more positively and will alter buying behavior to favor those that are socially conscious.
At iRaiser we have social responsibility running through our veins. We are passionate about providing highly secure, scalable, and efficient tools for your company to drive impact where purpose meets profit.
A wide range of solutions to maximize your corporate philanthropy
Our platform provides the tools needed to manage, report and project your total philanthropic impact. Whether you launch a P2P campaign for a specific event, run a matching gift campaign for a global cause, or focus on a sole project through crowdfunding, we've got you covered.
Contact Us
+500 clients in 20 countries across 3 continents.
Global campaigns across 75 countries.
€1 billion raised for non-profits since 2010.
Offices in France, UK, Italy, Belgium, The Netherlands, Denmark & Finland.